My mother in law, Frieda Klancher, passed away a couple of weeks ago. She was 94 and led a long and fruitful life. Mother, teacher, grandma, friend. Loved family, taught for so many years in a small rural area that practically everyone from 30 to 70 had her for a teacher. Went from a one room schoolhouse to almost the computer age.

A tough woman, wirey, mowed her own lawn into her late 80's. In her youth, I heard she could carry a full milk can in each arm. Farmed at night and weekends, taught school during the day got her 4 year degree at 46. All in all a good life.

Her son Paul and I built a schoolhouse themed casket for her toward the end complete with blackboard. Wrote "Mrs. Klancher" on the blackboard, her great grand daughers each drew their goodby pictures. Maybe the most poingant moment came when two little children went up during the wake, scribbled some silly pictures and squealed "look what I drew mommy". Perfect.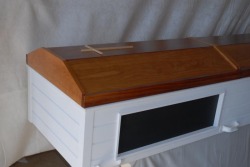 I wrote a little something sitting out on the deck last night. Hope you enjoy.

She was a coal miner's daughter
teaching us all
from humble beginnings yet standing tall
High school learned
college too
an unheard goal in '42

One room schoolhouse
daughter in tow
ten little indians, all in a row.

She taught us wisdom
she taught us to play,
she taught us to smile at the end of days...

Lessons learned, no lessons lost

"Oh yea", "too sweet", "clean it up" she said
but sometimes she'd snatch our plates instead.

Naively innocent, frightfully strong,
perpetual motion, she could get around.
Hard to keep up,
no matter how hard we try,
but we learned to remember,
never ask "why?"

Goodby mother, grandma and friend,
there are still many letters from heaven to send.

Patrick