I'm sitting at the Cowboy Bar in Jackson Hole, Wyoming (I had to at least check it out...). I'm out here checking and measuring space for a couple of friends and clients of mine. It's a long way from Minnesota, but I try not to shy away from adventure and opportunity when the occasion arises, not to mention the photographic elements of Jackson Hole..

Gray skies and snow squalls have been the measure of my days, causing me to take shelter in the various by-waya around town...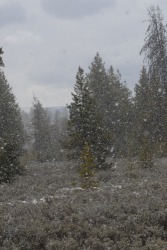 Had a lovely dinner last night sittingat the bar of the Snake River Grill. Good food, good wine, good company, mostly in the form of the "bottom of the totem pole" bartender, Brandy (forgive spelling, if appropriate) and a couple of good Catholics trying to figure out why they gave up bread and cheese for Lent.

Got a nifty hand drawn map from Brandy highlighting potential bison hotspots and sunset views. Missed on the bison, recouped a bit with 3 moose sightings, and picked a winner with Dornan's sunset deck.

All in all a good day in the life of Ivan Denisovich...