Mother loved flowers and poetry, nature and horizons. I love flowers and poetry, nature and horizons. Coincidence?...I think not_

She also loved the mysteries of life, walking the land, tilling the land (see later reference), harvesting what she sowed. She liked to travel when it presented itself, traveled in her mind when it didn't. Simple rides in the surrounding countryside were always a favorite as were apple orchards and the occasional winery.

Always helping, always caring, always "don't worry about me, I'm fine".

Mother left us in December at the age of 94. A good run by any measure...too soon in some respects, too late in others. Suffered a bit the last couple of months but rarely showed it. A tough lady...she left in her wake a legacy of artists and poets, carpenters and farmers.

In the end she gave us the time to take inventory of the things she loved and create our own special moment and gift to her, a final resting place. My sister Mary and I were able to gather lumber from the home place barn, she the artist drew up a couple of memory flowers and scenes, I the carpenter put them together.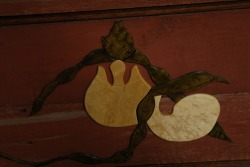 She the seamstress added the poem by Robert Frost