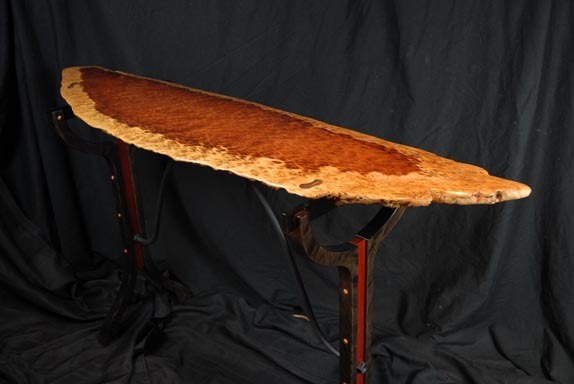 Bird's Eye redwood table with ebonized birch legs, steel frame, ebony supports
Welcome
Welcome inside Patrick J's Imagination. For many years I have challenged myself to find an unusual angle, curve, line or grain in the beauty of piece of wood. My passion is creating truly unique "one of a kind" furniture pieces for my clients.
Our custom designs integrate my imagination with the functionality you are looking for in a furniture piece that compliments your home.
Within these pages you will find a collection of some of my favorite photos and furniture built for my clients - a quick taste of my imagination art in many forms.
Sit back, relax, browse and enjoy!
Some of these designs are for sale and some of them were created for specifically for a client. If you are interested in learning more about the pieces I have for sale or would like me to create a custom piece for you, send a quick email to Patrick J's Imagination.
I've highlighted my introductions with excerpts from of T.S. Elliot's "The Love Song of J. Alfred Prufrock". His imagery is impossible to ignore. I hope you enjoy what you see "let us go and make our visit".
Patrick Plautz is the recipient of the Debbie Hart Artist Award Winner at the 2013 Excelsior Art on the Lake event on June 8th!
Patrick in the News
---
Blog
---
First evening wine in the fading light of a long lost spring
All creatures great and small, alive, in tune, rejoicing,
As only they can.
Deer noses pressed to the earth, tongues snatching the green desserts,
The cold bread lines of winter a distant memory…,
Squirrels searching for their Ice Age acorn, jubilant in its reward.
Even the chickadee has a different tone,
Shedding the scarf of winter survival to a bobbing bonnet of spring.
And me, pen and wine in hand, savoring the smells of dirt,
The chorus of distant geese,
Catching the last glimpse of sunlit treetops
Almost fall like in their hues of fading gold…and coming GREEN.
---
Where to begin? It's been so long. Life, as usual, sometimes gets in the way of passion...

I shall start, I guess, by dropping yet another pebble into the waters to see where the rings and ripples find their destinations. Changes are coming, I do grow old, the filters protecting life do slowly rust and fade away. One less backup, I suppose.

But this is not an essay of regret, fear, or longing. To quote yet again, T.S. Elliott's Prufrock, I have found myself pinned and wriggling on the wall, spitting out butt ends as we all do from time to time. Rather it is time to murder and create (purhaps butchering wood is more appropriate, let's not get overally dramatic!)

I shall resume rummaging through peoples garages, Amish sheds, and backyard woods looking for "unattractive wood", as someone once wrote about my stockpiles, in an attempt to mold and shape it into something "wonderful" as brother Michael used to say. It should be fun.

In the coming days and weeks I will try to catch up with some of the events of life: a new shed, a fun barn cave, an upcoming garden shed, bottling Jesse's wine, fun stuff.

Until then, have a Merry Christmas...

Pat