Biography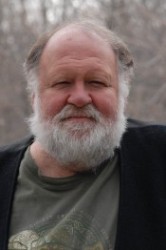 Patrick Plautz grew up in a rural area near the small central Wisconsin town of Willard. It was a town of strong Slovenian heritage & at the time was comprised of 2 taverns, 2 feed mills, 2 dance halls,1 general store, 1 cheese factory, 1 post office, 1 garage & a church.
It was also nestled in one of the most scenic areas of Wisconsin and has been the setting for many of his photographs. He likes to capture a moment, however benign, and somehow turn it into a statement of beauty in all its' simple splendor.
The prose of Pats images is that these stunning images, nudge us to slow down a moment, and take a second look at the wonder of nature around us. Sometimes it involves capturing images of a bonfire or fireworks displays. When frozen in the click of his camera, these stunning photos of fire and energy hold their own surreal elegance in a stolen image of still.
The second influence of that time and place was wood, work, and craftsmanship. He was surrounded and nurtured by artisan family members and friends who excelled in carpentry, painting, sewing, and sculpture. He built his first cabinet at 14 and began his carpentry career at 16. Through the years he maintained an active interest in creating wood art and now operates out of a small shop in Savage, MN building fine furniture and cabinetry mostly with a flair for the unique and unusual. In his own words...."As in the old movie "The Sixth Sense", 'I see things...'. I feel I've been gifted in many ways but possibly none greater than the ability visualize the end product."
Whether it's a sketch of a kitchen floor plan or a unique shaped board, I somehow can see the finished product in my mind as clearly as a photograph. Using that, I immediately know where I'm going and only have to decide how to get there. More often than not, I look at a piece of wood and then figure out something to build out of it. I've recently found a hollow tree on my mother's property which I cut into one foot sections and am combining that with some interesting knotty oak I found earlier at an Amish lumber yard in Wisconsin and a burled, natural edged, cherry "banana" board to create an eight foot wine rack and bar.
I store interesting boards along the wall or someplace I can keep an eye on them and will sometimes walk by them for days, months, or years before the inspiration strikes me and everything falls into place. I try to work the same way in some of my photography. To be sure, if an interesting scene or flower presents itself I will take the picture, but then I try to see what small detail really calls out to me. Sometimes it's a bud, sometimes it's a bird beak peeking from behind a feeder. More often than not it's the way the sun or fog falls on a leaf, a tree, or a river. Occasionally it's the glint of an eye...
I hope you enjoy my visions and my imagination. It's been fun for me and I hope I can make it fun for you..."